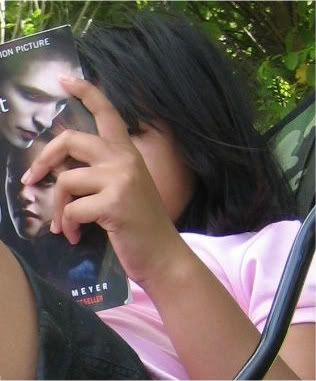 In that odd way that the Internet has of steering one from web page to quote to idea to new thing and around again, I came across a
blog post
by author Nicola Griffith on the nature of blockbuster novels. She was pondering who the people are who read poorly written, but wildly bestselling, books like
The Da Vinci Code
and
The Bridges of Madison County
. Her conclusion was that they're read primarily by people who, in Griffith's words, "don't know any better."
The same could be said for people who populate the audiences for mega-blockbuster movies. Now, before you violently lurch away from the rest of this post and start typing your angry response, keep in mind that "people who don't know any better" isn't an insult. It's not the same as calling someone stupid or tasteless. Granted, in the privacy of the mind, one
might
accuse the audience for the latest
Michael Bay
flick of being both those things, but that's not an intellectual argument, it's a prejudice. The truth is that most people really don't know what
mise en scene
means, or recognize a three-act story construct, or notice when a particular stretch of dialogue is painfully trite. For a great many people, a ticket to the movies or the purchase of a paperback novel is purely an entertainment expense -- a brief escape, not an exercise for the cerebellum.
As easy as it is for cinephiles to become outraged at the massive audience for movies like
2012
, it comes down to the fact that most people who go to movies aren't like you or me -- they really do just want to "turn off their brain and have fun," and don't give a damn about story structure, pacing, or the quality of the dialogue. These are the people who think that film critics are high-falutin' blowhards who just want to ruin everyone's good time by pointing out that the current cinematic emperor is buck nekkid. (Trust me, we don't want to ruin anyone's fun ... although they may be on to something with the blowhard thing.)
Griffith makes an excellent argument that enjoying a blockbuster is primarily about pop-culture inclusiveness, not a statement of the audience's taste or intellect. Replace the word "book" with the word "movie" in the following, and you have a compelling explanation as to why pedestrian, big-budget Hollywood crap can draw so many ticket buyers:
Blockbuster-book buying isn't about books. It's about human behaviour and group dynamics. It's about belonging. The blockbuster consumer hears people talking about the the secret codes underlying national monuments, or vampires vs. werewolves, and they want to join in the conversation. Just as they haven't spent much time thinking about dress design, they've never considered how narrative works. They don't have the critical tools to see that the book is ugly and badly made. All they know is that they're joining in and having a blast. They aren't habitual readers; they have time/inclination for one book a year, so they pick the one that they've heard their coworkers and fellow students and clients raving about. A blockbuster novel is like a Halloween costume: it only has to last one night and provide something to talk about in the morning. It's a way to feel part of the party.
And as hard as it is for me to say ... there's nothing wrong with that. Granted, I don't remember watching a movie with an uncritical eye since early childhood, but then I'm a freak. And Griffith also notes that, when it comes to readers of Dan Brown and Stephenie Meyer, "[e]ven if only one percent of those occasional readers suddenly falls in love with this notion of reading for pleasure, of reading as an interior experience, then, hey, we're good." The same can be said for movies -- some small percentage of the audience for
Transformers 2
has undoubtedly fallen in love with cinema, and their further explorations into the art will inevitably introduce them to far, far better films.
So, there lies the question: Is Griffith right? Is the audience for dumb blockbuster books and movies merely undiscerning? And is it possible that exposure to big budget Hollywood tripe can lead to an appreciation of film as an actual art?